what are the missing points of AIOPS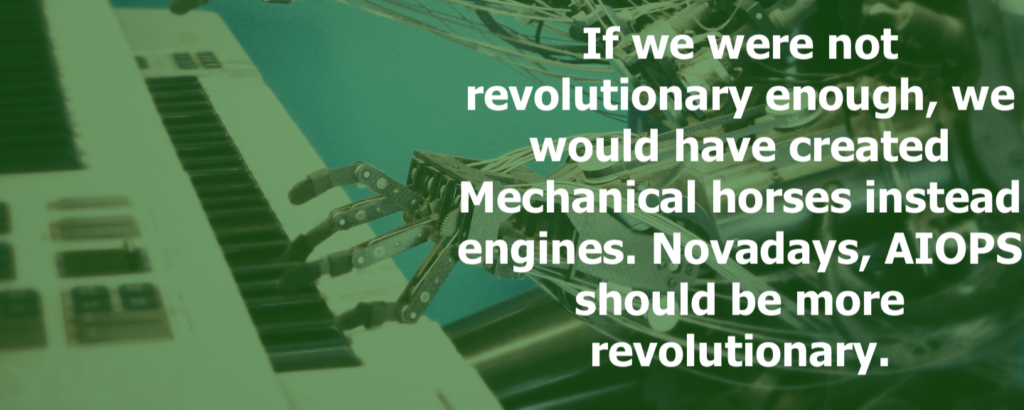 What would happen if humans couldn't think revolutionary and try to mechanize the horses before the invention of ''motor vehicles ?
As essential for the century we are in, the number of programs that shapes our daily life is rising and it is not hard to predict that we will need even more.
Because many systems that we establish out of these programs can process without downtime describe the productivity of our daily life. 
As we know, all programs we use are written and packaged by the developer then they are installed on a server to run on the server. After that, the access to these programs, their speed, their backup, and security, etc. are the responsibility and in the job definition of the system engineers.
It is very clear that the work has been done is getting complicated and intense day by day. Likewise, if we include the devices that have an operating system and run apps ( Smart TV, Mobile Phone, Adsl Modem, Tablet, IoT devices), the number of the ruled servers at present is predicted as between 10 to 30 Billion.
In our "Will Artificial İntelegence Instead Of Engineers" article, we have mentioned the decrease in trust in system engineer's ability to achieve that sophisticated job and the searches for full automation that remove the human factor as far as possible in system administration.
In fact, in 2008 Google has calculated that it is necessary to hire a 100.000 system administrator because in 2015 they will reach 100 billion servers.
As a solution, instead of employing that amount of people, it developed Borg substructure and became fully automated by this substructure which is called Kubernetes. In this way, now, Google can manage 252 billion servers with around 19.000 system engineers.
Regarding this calculation, it seems like there will be a need for hundreds of millions of system administrators in the near future. Because it is not possible to use substructure of full automation that Google has developed uniquely to itself in every setting that the system has been managed, the searches for alternative solutions are being continued. 
AIOPS is the name given for the last technology that has been produced to supply imagined full automation.
This new term that comes out by the combination of the words of AI (Artificial Intelligence) and OPS (Operations) as you can understand from its name means to uninterruptedly observation and managing of the systems which are created by artificial intelligence.
My personal opinion is that, although it sounds practical, the concepts of artificial intelligence (AI) and operation (OPS) cannot be combined simply as writing these two words next to each other.
Because nowadays the IT Operations (system administration) are trying to be done in a very blunderingly, as squeezed between ITILv1,2,3,4 Operation standards and ITSM tools.
But systems are being created and disappeared so quickly that the process of ITIL cannot offer any solutions for these subjects. Instead of that, Dev OPS and SRE are the new standards of system administration with their advantage of trustworthiness and perpetuity.
In its current form, I liken the concept of AIOPS to the fact that before the invention of motor vehicles, people could not think revolutionary and try to mechanize horses. For the future, we need to think more visionary and add SRE and DevOps standards to new AIOPS solutions.
Photo by Emile Guillemot/www.unsplash.com